BIFENTHRIN 2.5% SC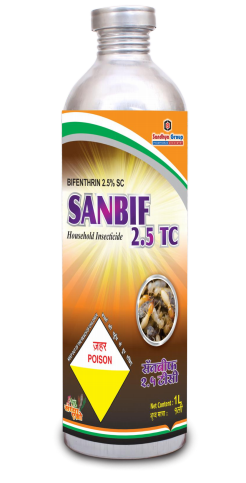 BIFENTHRIN 2.5% SC
Product Description
SANBIF 2.5 TC) bitentnrin2.5% ec
SANBIF 2.5 TC is an insecticide effective for termite control. For use in pre and post
construction, antitermite treatments.
FEATURES :
Its controls termites by contact action and provides knockdown effect.
Is safe and environment friendly product.
Provides double protection by acting as a repellent barrier and also kills live termites.
Is tolerant to pH variation. It can be applied to acidic as well as alkaline soil.
MODE OF ACTION : Contact and Stomach action.
(1) Pre and post construction. SANBIF 2.5 TC shall be applied at 0.05% a.i. concentration. i.e.
20.00 ml formulated product diluted in 1 liter of water for the control of termites in building
during pre and post construction. Treatment should as per IS 6313 (Part-2):2001 for pre-
construction chemical treatment and IS 6313 (Part-3): 2001 post construction treatment of the
existing building.
(2) Recommendation for use of control of Wood borer (Powder Post Beetle) in plywood,
veneer and wood
PRESENTATION : 'litre, 5litre, 20 Itr and 200 Ltr.

Contact Us
First Floor, A- Wing, Sangam by Rustomji, Opp Vijay Sales, S.v. Road, Santacruz ( West),, Mumbai, Maharashtra, 400054, India
Phone :+918037265760