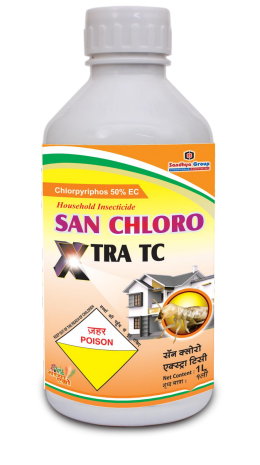 Chlorpyripnos 50% Ec
Product Description
Chlorpyripnos 50% Ec
SAN CHLORO XTRA TC A contcat and stomach insecticide emulsfiable concentrate
formulation containing Chlorpriphos as A. |. SAN CHLORO XTRATC containing as 50% ALI.
as Chlorpriphos 50% SAN CHLORO XTRA TC if used at recommended dose at pre-
construction stage can protect your valuable construction & save money for treatment during
the substantial life span of building.
FEATURE:
SAN CHLORO XTRATC is prepared from > 97% pure Chloropyriphos this virtually
makes the formulated SAN CHLORO XTRA TC free from hazardous impurities like
sulfolep.
SAN CHLORO XTRA TC is recommended by bureau of indian Standard of termite control
at 1% Concentration.
SAN CHLORO XTRATE dose not........through the soil because of its strong adsorption to
soil colloids.
SAN CHLORO XTRA TC is highly toxis to termites yet it has an established record of
safety of Human & Pets.
MODE OF ACTION: SAN CHLORO XTRA TC is recommendations for non crop sector for
termite control, in Buildings (Pre & Post Constructions Treatment) forestry soil treatment and
for the seed treatment at the required dosage and application.
DOSAGE : 1 litre / 50 liter water toget 1 person concentrate to treat 51 sq. meter of
surface area.
PRESENTATION : litre, 5 litre, 20 ltr.
Contact Us
First Floor, A- Wing, Sangam by Rustomji, Opp Vijay Sales, S.v. Road, Santacruz ( West),, Mumbai, Maharashtra, 400054, India
Phone :+918037265760