Deltamethrin 2.5% WP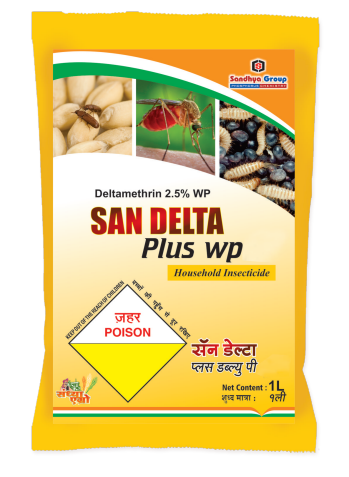 Deltamethrin 2.5% WP
Product Description
SAN DELTA Plus wp is ahigh performance synthetic pyrethroid used for Indoor Residual
Spray (IRS) for Mosquitos, Flies, Cockroaches as well as Effective against Stored Grain
Pesti.e. Weevils, Beetles, Moths etc.
FEATURE:
Deltamethrin 2.5% WP Good chemical stability
S AN D ELTA Certified with BIS (ISI Mark) And WHO approved
Plu Ss wp Mode of Action : Non systemic insecticide with contact and stomach action. Fast acting.
Household Insecticide Dosage :
For Indoor Residual Spray (IRS)
25-50 gms of formulation in 1.5-2.5 Itr of water.
For stored Grain Pest.
120 gm of delthrin is to thoroughly mixed in 3 |tr of water to be covered 100.sq. marea
wet content :4L.
Presentation: 1 Kg, 25 Kg.
Contact Us
First Floor, A- Wing, Sangam by Rustomji, Opp Vijay Sales, S.v. Road, Santacruz ( West),, Mumbai, Maharashtra, 400054, India
Phone :08037265760