Deltamethrin 2.8% Ec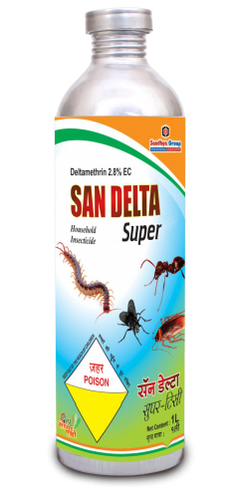 Deltamethrin 2.8% Ec
Product Description
Deltamethrin 2.8% Ec
SAN DELTA SUPER (Deltamethrin 2.8% EC) belongs to Pyrethroid ester group of insecticides.
FEATURE :
e Deltamethrin 2.8% EC is very effective in controlling the insects immediately after application even at lower doses.
e Ithas quick and long duration control
e Deltamethrin 2.8% EC is also used as an animal ectoparasiticide and controls numerous insect pests of field crops as cockroaches, mosquitoes, flies, and other insect pests
Mode of Action
Deltamethrin 2.8% EC is a broad-spectrum synthetic pyrethroid non-systemic insecticide, used to control insects on contact and through digestion
Deltamethrin 2.8% EC controls the insects by its contact and stomach poison action.
Dosage: Recommended dosage of SANDELTA Super
2.5 to 12.5 g/ha. to control Coleoptera, Heteroptera, Homoptera, Lepidoptera and
Thysanoptera
PRESENTATION : 100 mi, 250 ml, 500 mi, 1 Itr.
Contact Us
First Floor, A- Wing, Sangam by Rustomji, Opp Vijay Sales, S.v. Road, Santacruz ( West),, Mumbai, Maharashtra, 400054, India
Phone :+918037265760