Temepnos 50% EC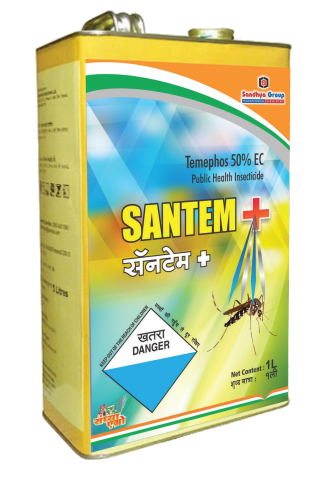 Temepnos 50% EC
Product Description
SANTEM1 Plus is organophosphate insecticide which is very effective for the
control of mosquito larvae. Itis widely use in public health program.
FEATURE:
Quick action.
Lowtoxicity to water species and mammals.
Itcontrols larvae of Anopheles, Culex & Aedes and dramatically reduces
mosquito population, in treated areas.
Environmentfriendly larvicide.
MODE OF ACTION : It affects the central nervous system through inhibition
of cholinesterase. In larva, this results in death before reaching the adult stage.
DOSAGE :
Clear Water - 2.5-5 mi/10 Itr of water.
Moderately polluted water- 7.5 - 10 ml/10 Itr of water.
Highly polluted water - 12.5 - 20m//10ltr of water.
PRESENTATION : 1Litr, 5Ltr.
Contact Us
First Floor, A- Wing, Sangam by Rustomji, Opp Vijay Sales, S.v. Road, Santacruz ( West),, Mumbai, Maharashtra, 400054, India
Phone :+918037265760