Thiamethoxam 25% WDG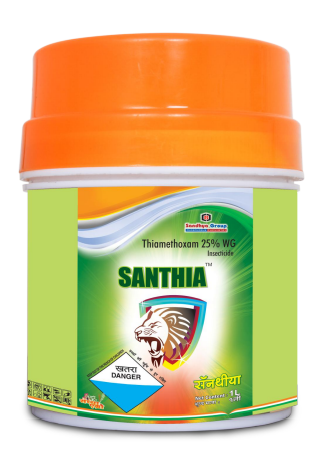 Thiamethoxam 25% WDG
Product Description
SANTHIA Thiamethoxam 25% WDG is a very strong insecticide, with fast and
durable poisoning activity.
FEATURES
¢ It is especially effective for controlling mites and has low toxicity to
beneficial insects.
Foliar treatments of citrus, cotton, leafy and fruit vegetables, potatoes, rice,
soybeans, etc.
¢ Seed treatment in-furrow for beans, cereals, cotton, maize, oilseed, peas,
potatoes, rice, sorghum, sugar beets, sunflowers, etc.
Mode of Action : Thiamethoxam 25% WDG, water dispersible granules, is a
broad-spectrum systemic insecticide of contact and ingestion, readily
absorbed into planttissues
Dosage: Recommended dosage of Santhia 100 gm in 100 Liter water per
Hector
Presentation: 100 gm, 250 gm, 500 gm, 1 kg, 5 kg and 20 kg
Contact Us
First Floor, A- Wing, Sangam by Rustomji, Opp Vijay Sales, S.v. Road, Santacruz ( West),, Mumbai, Maharashtra, 400054, India
Phone :+918037265760